Area Information & Attractions
Monument Valley Navajo Tribal Park
This great valley boasts sandstone masterpieces that tower at heights of 400 to 1,000 ft., framed by scenic clouds, casting shadows that graciously roam the desert floor. The angle of the sun accents these graceful formations, providing scenery that is simply spellbinding.
The landscape overwhelms, not just by it's beauty but also by its size. The fragile pinnacles of rock are surrounded by miles of mesas and buttes, shrubs, trees, and windblown sand, all comprising the magnificent colors of the valley. All of this harmoniously combines to make Monument Valley a truly wondrous experience.
Monument Valley Navajo Tribal Park Visitor Center Hours
Summer (May-Sept) 6:00am – 8:00pm
Spring (Mar – Apr) 7:00am – 7:00pm
Thanksgiving Day – closed
Christmas Day – closed
Monument Valley Navajo Tribal Park
PO Box 360289
Monument Valley, Utah 84536
(435)727-5874/5870 or (435)727-5875
This  is the only place in the United States where four states intersect at one point: Arizona, New Mexico, Utah, and Colorado. The original marker erected in 1912 was a simple cement pad, but has since been redone in granite and brass. The Monument is open year round, and features a Demonstration Center with Navajo artisans. Navajo vendors sell jewelry, crafts, and traditional Navajo foods nearby.
Located 1/2 mile from the junction of of Hwys. 160 and 41
Address: Navajo Nation Parks and Recreation Department
Box 9000
Window Rock, AZ 86515
928-871-6647
GENERAL INFORMATION
Open 8:00am – 5:00pm (Sept – May)
Open 7:00am – 8:00pm (May – Sept)
Admission $3.00 (all ages)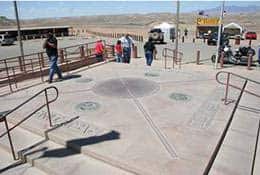 Navajo Arts and Crafts: Window Rock, AZ
The official marketing channel for the selling and distribution of authentic Navajo arts and crafts with 5 locations around the Navajo Nation.
Canyon de Chelly National Monument
Nowhere in Navajoland is the blend of past tradition and present culture more evident than Canyon de Chelly National Monument. The Navajo people still have a mystical bond to this redstone canyon that cuts an almost tropical path of trees and flowers through the desert. Canyon de Chelly is home to several periods of Indian culture dating from 350 A.D. to 1300 A.D., and the 26-mile canyon's sheer cliffs range from 30 to more than 1,000 feet, providing a spetacular backdrop for hundreds of Anasazi ruins, as well as modern Navajo homes and farms. The visitor's center offers details and maps to all of the canyon's many world-famous sites, including Spider Rock, White House Ruins and Canyon del Muerto. From the sandy canyon floor by all-terrain vehicle, or from the rim on a self-guided tour by car, Canyon de Chelly is one of Navajoland's most popular all-day adventures.
For more information call: (928) 674-5500 or 5510 or write to: Canyon de Chelly National Monument P.O. Box 558, Chinle, AZ 86503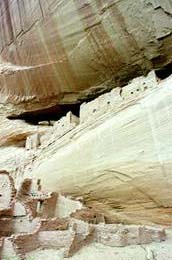 Navajo National Monument
Step back in time and capture a glimpse of Arizona's two largest ruins – Betatakin and Kiet Seel. See how the ancient ones lived more then 900 years ago. Beautifully preserved ruins can be seen from Betatakin Overlook, which also has a modern visitor center and replicas of ancient hogans and sweat lodges on the grounds. For those of you that want to see the ruins upclose, full-day hikes are also offered to both the Betatakin and Kiet Seel sites.
For more information, call (928) 672-2700 or write to HC-71, Box 3, Tonalea, AZ 86044
Hours are 8am to 5pm (Closed on all major holidays.)
Antelope Canyon is home to one of nature's most wondrous creations – the slot canyons. Carved from the red sandstone for millenniums by rain and wind, the canyons are narrow passageways that lead several hundred feet away from the mouth. The gorgeous sloping angles of the rocks – coupled with the shifts of light that make their way down from the rim of the canyon – combine for a scene that cannot be fully explained with words. Only 8 to 12 feet wide along the sandy floor, the slot canyons have been featured in Hollywood films and magazine publications around the world. But none of those images can match the one you'll experience when you step into the canyons and see this wonder for yourself.
For more information, call (928) 871-6647 or write to: Navajo Parks and Recreation P.O. Box 9000, Window Rock, Arizona 86515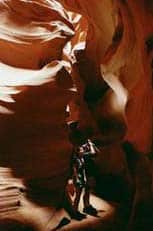 One of the highest lakes in Navajoland at more than 8,000 feet, Berland Lake is tucked into a little spot in the Chuska Mountains surrounded by rolling grassy hills and tall mountain pines. Fishermen will find the angling perfect, with plenty of channel and warm-water catfish.
Fishing is allowed year round at all major lakes on the Navajo Nation
For fishing and boating permits, call (928) 871-6451 or 6452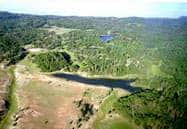 Window Rock Tribal Park and Veteran's Memorial
The small park near the Navajo Nation Administration Center features the graceful red sandstone arch for which the capital is named. More recently, the Navajos have built a Veteran's Memorial at the base of Window Rock to honor the many Navajos who served in the U.S. military. Many Navajo soldiers are recognized in the annals of history for their role as Code Talkers, whereby they used the native language to create a code that was never broken by the enemy. Historians credit the Navajo Code Talkers for helping to win World War II.
Open daily from 8 a.m. to 5 p.m.
For more information, call (928) 871-6413 or write Veteran Affairs at P.O. Box 430, Window Rock, Arizona 86515
Bisti Badlands
Step a few years back into history – say, 65 million years back – and get a feel for ancient Navajoland vistas at Bisti Badlands Wilderness Area. The peculiar soft clay formations are spread over a vast moon-like valley, and some of the domes can literally erode before your eyes during the rainstorms of Navajoland summers. Within these opaque ridges of bizarre geologic beauty are scientific tales about the demise of dinosaurs and the ascent of mammals.
Navajo Nation Botanical and Zoological Park
The Navajo Nation Zoo and Botanical Park in Window Rock is a sanctuary for nature and the spirit, and we are proud to be the only "tribal zoo" in America. Animals reside in truly natural habitats surrounded by native vegetation and rock scenery. Most of the animals here are native to the Navajo Nation, and they are part of the zoo's dedication to exhibit animals and plants important in Navajo history and culture.
There are about 30 species of wild animals. Many animals were received as orphans; generally, wild animals are not bred at this zoo. For those looking to see the zoo's large mammals, keep in mind that they are most active in the morning hours.
Wed – Sun, 10am – 5pm for more information call (928) 871-6573, Fee Required
Dinosaur Tracks
Located 5 miles west of Tuba City, along highway 160 (not far from the Grand Canyon), this natural site contains many lower Jurassic theropod tracks, eggs and fossilized bones.
Chaco Canyon National Historical Park
One of the centers of ancient Indian civilization, life, culture and trade, Chaco Culture National Historical Park is home to a cluster of more than a dozen important Anasazi (Navajo for "enemy ancestors") ruins that housed more than 7,000 people. The important ruins are accessible by self-guided trails, but for those interested in longer hikes, trails lead to the top of mesas for unsurpassed views of the entire Chaco Canyon network of ruins. A visitor center – featuring a bookstore, museum, and restrooms – and campgrounds are at the east end of the canyon as you enter the park. Accessibility is best by car from the north at the town of Nageezi, via County Road 7900, which is unpaved. From the south, visitors can also arrive via County Road 7900 (turn north at the town of Pueblo Pintado). In either direction, you will come to the junction of County Road 7950, which will take you west in Chaco Canyon. Be aware that these roads can be inaccessible in inclement weather.
For more information, call (505) 786-7014 or write Chaco Canyon at P.O. Box 220, Nageezi, NM 87037.
Navajo Village Heritage Center
A visit to the Navajo Village Heritage Center is a unique opportunity to engage in Navajo culture. Visitors will enjoy authentic Navajo food and dance performances, experience traditional story-telling, and learn about Navajo history and traditions. For more information, call (928) 660-0304
Good Shepherd Mission
The first Episcopal service was conducted in Fort Defiance in 1889 by Bishop John Miles Kendrick. Intermittent Episcopal mission efforts continued until 1894 when Miss Eliza Thackara accepted the appointment as superintendent of a hospital mission at Fort Defiance. The hospital, the first serving the Navajo, was completed in 1897. The building still stands and now serves the community as The Rev. Margaret Hardy Parish Hall.
Navajo Nation Council Chambers
See the Navajo Nation government in action as the 88 council delegates (representing 110 Navajo Nation chapters, or communities) discuss critical issues and enact legislation to determine the future of the Navajo people. While the Council is in session, you'll likely hear delegates carry on the tradition by speaking in Navajo, providing a perfect example of how the Navajo Nation retains its valuable cultural heritage while forging ahead with modern progress. Inside the circular Council Chambers, the walls are adorned with colorful murals that depict the history of the Navajo People and the Navajo way of life.
For more information about tours call: (928) 871-6417 or write to: Council Chambers P.O. Box 1400, Window Rock, Arizona 86515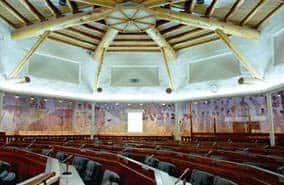 Navajo Museum Navajo Museum Library & Visitor's Center
The modern Navajo Museum is dedicated to preserving and interpreting the rich and unique culture of the Navajo Nation. Native displays, a book and gift shop, snack bar, auditorium, outdoor amphitheater, information kiosk. library and on-site authentic Navajo hogan complete the center.
Hours: 8 a.m. to 8p.m. Tuesday through Friday, and 8 a.m. to 5 p.m. on Monday and Saturday.
For more information call (928) 871-7941, or write to: Navajo Museum P.O. Box 1840, Window Rock, Arizona 86515